The First Kirov Clock Plant
Evacuated from Moscow to Zlatoust in the autumn of 1941.
Installation of the factory and equipment began at the end of November, and the first production items rolled off the assembly line on 25 December 1941, the date Agat considers the founding date of the factory. Find out all interesting facts about the Agat Factory history on this site.
After WW2 the factory began to produce devices for manly peaceful applications.  Every single decade in the history of the Zlatoust Clock Plant has seen the development and production of new devices.
The 1950s
During the 1950s special watches for the blind were designed and remained in production until the 1960s. Opsiometers (map measures), various watches and clocks, and relays for i.e. washing machines were produced all along.
Agat attending the Expo 67′
During the 1960s the plant participated in the International Exhibition in Montreal (1967).  The State Certificate Board awarded our Curve tracers and relays the top-quality, "Q", mark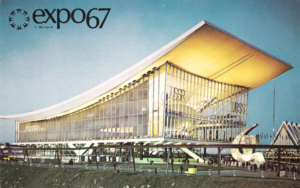 and the "Gosstandart".  The first industrial series of stopwatches were designed for measuring time intervals, which were accuracy to a second, and could summarize time intervals.
The 1970s
During the 1970s the plant began to produce timers and new models of clocks were developed.  One of the first Soviet electronic stopwatches with numerical indices was designed at the Zlatoust Clock Plant.  Devices for measuring pulse rate and breathing frequency (СДП -70) were developed based on this stopwatch.
The 1980s
During the 1980s a new shockproof, balanced model of a stopwatch and 30-minute relays were designed.  The factory commenced production of cyclic time relays (RVTS).  The new clock model (ЧБН-160)  was also produced, which was awarded the silver medal at the VDNH (All-Union Exhibition of Achievements National Economy) in Moscow.
The 1990s
During the following years, the plant continued to improve production.  The plant designed switches for electric cookers and new models of timer relays and clocks.  The factory is still the only manufacturer of mechanical stopwatches in Russia and exports them to 12 countries.
The 2000s
The plant has continued to participate in international exhibitions and trade fairs, and was awarded the Russian Federation Certificate "Leader in the Russian Economy".  In February 2000 the plant was awarded the Golden Prize "The Best Trade Mark" – the New Millennium Prize, and the "Technical Quality Award".
Some awards and accomplishments the workers of the plant are proud of until today.


The Agat Factory converted to a solid promise for traditional, yet unconventional products for today's globalized markets.


Agat Today
Besides the mentioned bread and butter products, the factory evolved into one of the last strongholds of Russian watch production. The long-lasting history in manufacturing mechanical Russian Diver watches makes the factory an important asset in today's watch production in Russia.