[h1]Agat, a bastion of timekeeping[/h1]
Agat is the only manufacturer of mechanical stopwatches in Russia, and one of only a handful around the globe who maintain this tradition. Mechanical stopwatches are still special today, and are individual devices that measure time, something in which we place so much importance. The plant is certified "Leader in the Russian Economy" and in February 2000 it was awarded the Gold Award "The Best Trade Mark" –  the New Millennium Prize, and also the "Technical Quality" award. The dials of Agat stopwatches are burned into the subconscious of people around the world, and the image comes easily to mind when they think of stopwatches. The classic design has become iconic.
A mechanical stopwatch from Agat is a very unique gadget in our digital world.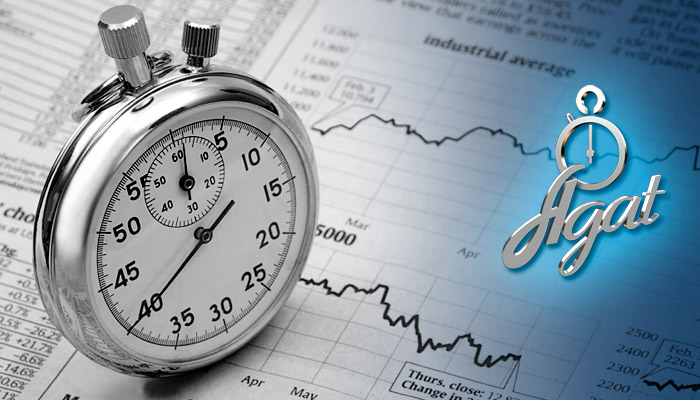 [h1]Stopwatch, a handheld timepiece[/h1]
designed to measure the amount of time elapsed from a particular time.
"The timing functions are traditionally controlled by two buttons on the case. Pressing the top button starts the timer running, and pressing the button a second time stops it, leaving the elapsed time displayed. A press of the second button then resets the stopwatch to zero. The second button is also used to record split times or lap times. When the split time button is pressed while the watch is running, the display freezes, allowing the elapsed time to that point to be read, but the watch mechanism continues running to record total elapsed time. Pressing the split button a second time allows the watch to resume display of total time.
Mechanical stopwatches are powered by a mainspring, which must be periodically wound up by turning the knurled knob at the top of the watch.
The device is used when time periods must be measured precisely and with a minimum of complications. Laboratory experiments and sporting events like sprints are good examples."
This text is available under the Creative Commons License